Install Theme
Your web-browser is very outdated, and as such, this website may not display properly. Please consider upgrading to a modern, faster and more secure browser. Click here to do so.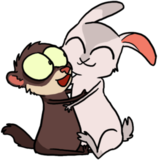 An idling, cultural anthropologist navigating creativity channels via art and writing. I may or may not work in a public school setting somewhere in the heart of Texas. My name depends on how you know me; Heather or Perdiddle is just fine.
Aug 20 '14
Aug 20 '14
37,654 notes
(via
theincorrigiblepear
&
anklbitrs
)
Aug 20 '14
Anxiety is like perpetually hearing the boss/enemy music but never seeing the threat.

This is the best description I've ever heard.
107,853 notes
(via
troll-bridge
&
reversingyourpolarity
)
Aug 20 '14
Y'ALL PRAY FOR DRAKE PLEASE IT LOOK LKE HIS SOUL CHASED NICKI'S ASS AND LEFT HIS BODY TO ROT 

SAVE HIM
4,914 notes
(via
lorentztransformation
&
vomitinkonpaper
)
Aug 20 '14
6,758 notes
(via
conversationparade
&
seto64
)
Aug 20 '14
does anybody know if drake is still alive
(Source: bepeu)
18,157 notes
(via
congenitalprogramming
&
bepeu
)
Aug 20 '14
19,644 notes
(via
chooblogs
&
oddman11
)
Aug 19 '14
life hack: convince yourself that you don't have emotions by sleeping, scrolling mindlessly through tumblr, and eating everything whenever you do
87 notes
(via
beneviolent
&
horriblewarning
)
Aug 19 '14
If something is 'old as fuck' then it's about 1.2 billion years old because that's when life evolved sexual reproduction.
21,340 notes
(via
hobbitkaiju
&
charlesoberonn
)
Aug 15 '14
107,277 notes
(via
minuiko
&
thegaywardens
)