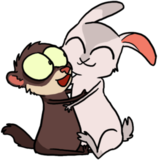 An idling, cultural anthropologist navigating creativity channels via art and writing. My name depends on how you know me; Heather or Perdiddle is just fine.
Reblog if you've formed a meaningful relationship with someone you met online.
13,251 notes
(via
hornedfreak
&
aieki-deactivated20111126-deact
)
I just spent the last 2 hours in a blind-numb flurry of digging for 1920s stuff. My legs are numb. x__x
I have a new tumblr devoted to the 1920s in as many forms of science, media, and everything else I can dig up. I may have to resort to scanning books, goodness me. 
The url: http://copaceticapplesauce.tumblr.com/ and the site is still a work in progress.